Tuesday, January 22nd, 2013
I'm terrible at keeping my own secrets, so I'm spilling some of the beans about next week's super=exciting post: it'll be Scottish themed. I'm working on an exciting main dish but, in the meantime, I thought I'd post one of the accompaniments: Scottish shortbread – or "petticoat tails" as these biscuits are traditionally known.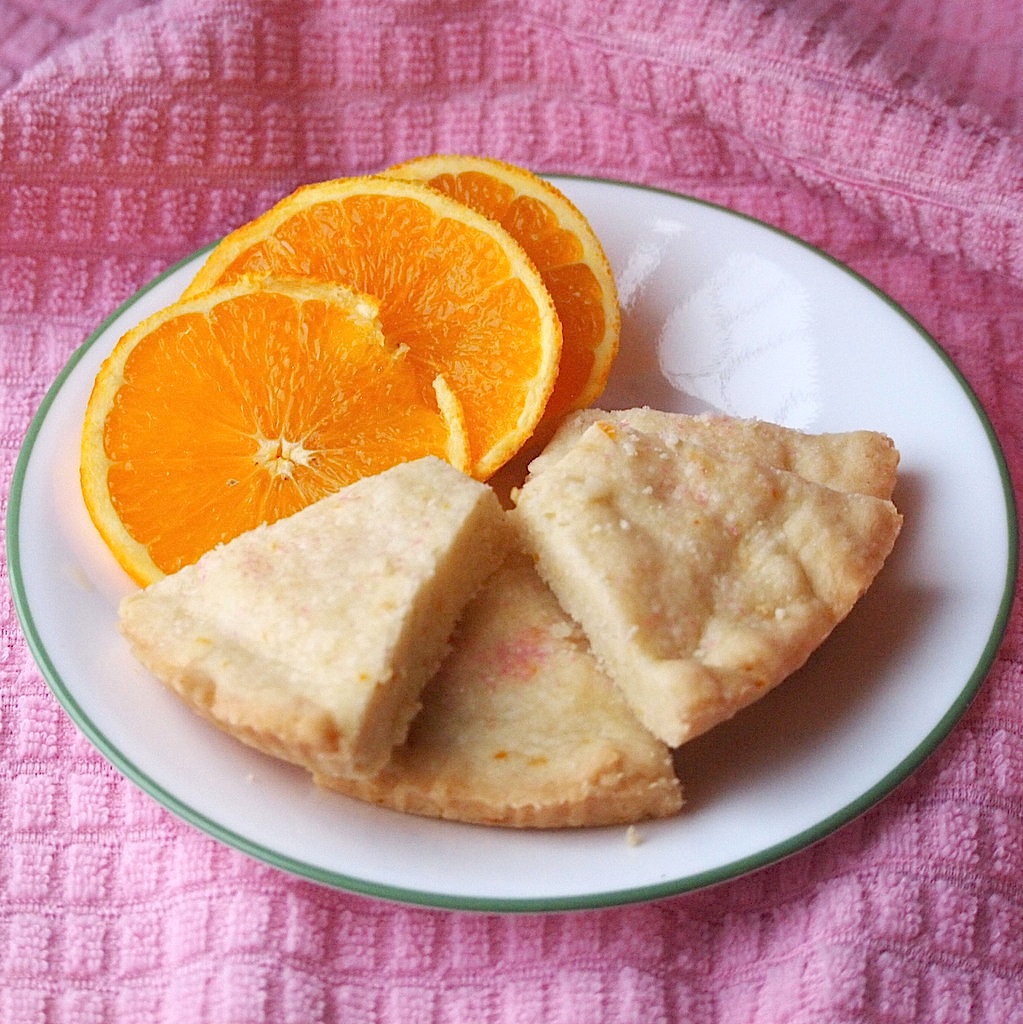 The name "petticoat tails" dates to the eighteenth century, and references the shape of the cookie – which resembles a lady's spread-out petticoat. I know this because this past November I happened to pick up a copy of a 1968 volume called The Horizon Cookbook. Not only is this book vintage itself – it's a vintage food history book, with about 350 pages each of historical discussion and historical recipes. The recipes – including the one below – are well-formulated and from diverse parts of the globe. I came across this book in a small town upstate which a friend and I passed through on the way to and from a hike; we nearly missed our train while I was paying for my book – but it was so worth it.
I found further discussion of "petticoat tails" in The Concise Encyclopedia of Gastronomy: "'An English traveller in Scotland and one very well acquainted with Frances states in his very pleasant book that our Club has fallen into a mistake in the name of these cakes, and that petticoat tails is a corruption of the French petites gatelles. It may be so: in Scottish culinary terms there are many corruptions, though we rather think the name petticoat tails has its origin in the shape of the cakes, which is exactly that of the bell-hoop petticoats of our ancient Court ladies' – Annals of the Cleiksum Club."
Whatever the etymology, these shortbread cookies are simple, perfectly crumbly, and delicious. I have suggested several variations on the basic recipe – the ones pictured above were made with orange zest, and include bourbon in place of vanilla. Enjoy!
Petticoat Tails (Makes 32 cookies)
1 c. unsalted butter, softened
1/2 c. granulated sugar
3 c. flour, sifted
1/2 tsp. baking powder
1/2 tsp. salt
1 tsp. vanilla extract
Decorating sugar
1. Preheat the oven to 350 degrees.
2. Cream the butter and sugar until light and fluffy. Whisk the baking powder and salt together with the flour, and gradually add the dry ingredients to the butter mixture. Add the vanilla and mix just until the dough coheres.
3. Divide the dough into 4 equal parts. Press each part evenly into a 7-inch pan. Use a small glass (like a shot glass) to press a circle in the center of each pan. Score the dough from the edge of the pan to the edge of the center circle, dividing it into eight sections. Sprinkle with decorating sugar.
4. Bake for about 20 minutes, until golden.
5. Let the cookies cool in the pan; use a knife to re-cut them as the cool. Store in an airtight container.
Variations:
- Add orange or lemon zest.
- Use bourbon or almond extract in place of vanilla.
- Top with a light icing of confectioner's sugar and lemon juice.
This work, unless otherwise expressly stated, is licensed under a Creative Commons Attribution-NonCommercial-ShareAlike 3.0 United States License.